Good Consumer Reports article quoting UB's Dr. Rick Blondell
xxxxxxxxxxxxxxxxx
Richard D. Blondell, MD
Professor & Vice Chair for Addiction Medicine
UB Department of Family Medicine
77 Goodell St., Suite 220
Buffalo, NY 14203

January 23, 2014
The end of Zach's story is one of a tragic death that left his family and friends with an emotional wound one that will never heal, but Zach's story also has a beginning. His story and the story of many other young people began with pills that were manufactured by a legitimate pharmaceutical company and distributed through a system regulated by the federal government. Then, some physician or dentist took a pen to a prescription pad and wrote a prescription for these pills. Later, someone took that prescription to a pharmacy and left with a bottle full of pills. Through a chain of events, those pills found their way to Zach who took them and died.
Who is to blame for Zach's death? Although he was the one who took too many pills, things are not just that simple. Many others had a hand in this tragic story. Drug dealers make a profit selling diverted prescription drugs. They really are "drug pushers" who are out on the street and recruit young people as new customers. Some physicians and dentists may be duped into prescribing medications to so-called professional patients, who aim to resell their prescribed medications to drug dealers for a profit. A few doctors over-prescribe and others have failed to recognize the growing public health problem of prescription drug addiction. Drug addiction used to be mostly due to illegal drugs such as heroin or cocaine. Now, drug addiction most often starts with diverted prescription drugs. These are the new addictive drugs, and drug companies design ever more potent drugs with high risk for abuse. These profitable medications have been promoted to doctors. Patients want prescriptions for them and can be prescribed into addiction. Once a patient becomes addicted, their health insurance plan may not pay to have the addiction treated. Addiction becomes a cage and escape is not easy. While it would be easy to blame just Zach, but that's just too simple. The truth is that there is pretty of blame to go around.
So what are the answers? Although painkiller medications should not be withheld from suffering patients who need them, the health care system should be prepared for the unintended addiction that develops in some patients. All patients should receive adequate warnings about the addictive nature of these medications with their first and every subsequent prescription. Physicians will generally do the right thing if they are given the appropriate information, but they need appropriate education about the proper use of addictive drugs. They also need to know how to recognize the development of addiction in a patient they are treating, how to intervene with a patient who has developed an addiction and how to refer these patients for addiction treatment when appropriate. Physicians should not prescribe patients into an addiction and then leave them to fend for themselves. Health insurance companies need to be required to pay for addiction treatment services. Enhancing the regulation of these drugs on the federal and state level is also important. Careful consideration should be given to new addictive drugs before they are released into the marketplace and some medications that cause more harm than good should be removed from the market.
Death in patients like Zach are preventable. There is no one single cause of these unfortunate deaths, and there is no one simple answer to this growing epidemic of prescription drug abuse.
Q&A with Addiction Medicine Expert: The Impact of Zohydro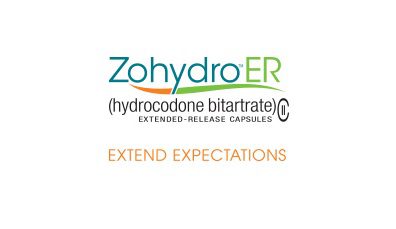 The Food and Drug Administration's (FDA) decision to approve Zohydro ER (extended release), a pure form of the painkiller hydrocodone, has stirred opposition from many addiction medicine experts, public health officials and legislators. Join Together spoke with Dr. Richard Blondell, Vice Chair for Addiction Medicine in the State University of New York at Buffalo Department of Family Medicine, about the issue.

---
Why is there such controversy about Zohydro's approval?
Dr. Blondell: It's a question of risk versus benefits. Zohydro, unlike combination hydrocodone products such as Vicodin, does not contain acetaminophen. The FDA says since acetaminophen has safety risks—including potentially deadly liver damage when taken at a high level—Zohydro can be a good option for patients who need high doses of the medication, without the associated liver toxicity risk. They also say it gives doctors another option for prescribing opiates, so they can rotate medications.
However, the risks are great. There is no mechanism in the Zohydro pill for tamper resistance. If people want to abuse it, they can extract high doses of hydrocodone and inject it. The risk is it will create more addiction in people who are prone to misuse and addiction.
What about the argument that more, better opiate medications are needed to treat patients in pain?
Dr. Blondell: There are already a lot of opiate medicines available—there is not a critical need for another one. Zohydro is only a slight variation from many other opiates that are already on the market, and the benefits are minimal. Zohydro is not a big new discovery that will be a watershed moment in medicine.
Why do you think Zohydro poses such an addiction danger?
Dr. Blondell: We already have experience with opioids extracted from pills causing death. Before OxyContin became tamper-resistant, people died after injecting it. Since Zohydro is not tamper-resistant, people who want to abuse it can extract a pretty stiff dose and inject it, which can be fatal for people with a low tolerance.
What needs to be done to reduce the risk of addiction to Zohydro and other opiate painkillers?
Dr. Blondell: We need to better educate our physicians about how to use these medications, how to assess patient risk for abuse, how to screen patients for the development of addiction, and how to intervene early to get patients into treatment before they ruin their lives. This is what we should be doing instead of spending all our efforts developing another opiate, when the market is already flooded with opiate products. We should instead be educating our physicians to use the products already out there.
What do you want the FDA to consider as Zohydro comes to market?
Dr. Blondell: I'm sure the cost of developing a tamper-resistant pill is high, but what is the cost of hundreds of overdose deaths each year? The success in the marketplace has to be balanced against the negative effects to human life. If we see overdose deaths from Zohydro, will the people who approved it take ownership for being part of the problem? As an addiction medicine specialist I've seen misery and suffering. I've talked to parents of children who have overdosed. I see the human cost of addiction on a daily basis. I think that it's too big of a price to pay.
Richard D. Blondell, MD, is a Professor and Vice Chair for Addiction Medicine in the State University of New York at Buffalo (University at Buffalo) Department of Family Medicine, and is the Director of Research on Addictions for the Univer

sity at Buffalo Primary Care Research Institute. Dr. Blondell is a founding member of the American Board of Addiction Medicine and the ABAM Foundation, serving on their Boards of Directors since 2008.
Zohydro will create new addicts, UB addiction medicine expert says
New product is "just another opiate product in a market already flooded with them."
Release Date:
March 5, 2014
BUFFALO, N.Y. – Few benefits and many risks will result from the marketing of Zohydro, the extended-release formulation of hydrocodone, according to Richard D. Blondell, MD, vice chair for addiction medicine at the University at Buffalo and professor of family medicine in the UB School of Medicine and Biomedical Sciences.
Blondell founded the UB Department of Family Medicine's addiction fellowship, one of 23 postgraduate addiction medicine fellowships in the U.S. In addition to his expertise in addiction medicine, Blondell studies alcoholism and the relationship between chronic pain and addiction. He sees patients through UBMD, the university's physician practice plan.
"A certain percentage of these products will always be diverted to illicit use," Blondell says. "We already have a prescription drug problem and the way this drug is packaged makes it easy to abuse. Zohydro is just another opiate product in a market that's already flooded with them."
In 2008, Blondell and colleagues published a study in the Journal of Addictive Diseases that revealed a definite correlation between the quantity of prescriptions written for painkillers and the incidence of addiction-related problems.
"Why introduce a new product that will pose unnecessary risks for those who are already abusing prescription drugs as well as for patients who could become addicted simply by being prescribed these drugs?" Blondell asks. "Although effective treatments are available and we are working to increase access to those treatments, the best strategy is to prevent addiction in the first place."
Blondell heads a new national center at UB dedicated to addiction prevention and treatment. Sponsored by the American Board of Addiction Medicine Foundation (ABAMF) and funded by the Conrad N. Hilton Foundation, the ABAMF National Center for Physician Training in Addiction Medicine provides technical assistance to expand training programs for physicians who wish to specialize in addiction medicine. It is also developing curricula and outreach strategies to help primary care physicians better address substance abuse in adolescents, and it is working with other national medical organizations to integrate addiction care into the mainstream health care system.
Blondell also has been involved in efforts to educate practicing physicians on safer prescribing practices, and to develop monitoring systems that identify possible prescription misuse and diversion.
Richard D. Blondell, MD
Professor & Vice Chair for Addiction Medicine
UB Department of Family Medicine
77 Goodell St., Suite 220
Buffalo, NY 14203
October 11, 2013
BUFFALO, N.Y. – A new national center for training physicians in addiction medicine will be directed by a University at Buffalo family medicine physician who is leading the nationwide effort to educate primary care providers about how best to treat and prevent addiction.
The new center will take a new approach to educating and training primary care physicians how best to prevent and screen for addictions, as well as how best to intervene or make referrals to treatment, especially for adolescent and young adult patients.
"Addiction medicine has traditionally been focused on treatment," says Blondell, noting that most people are familiar with high-profile treatment centers and celebrities' efforts to undergo detoxification. "But why should we wait for people to totally ruin their lives with drugs before we intervene?"
"Addiction is a pediatric disease," he continues. "About 90 percent of those with an alcohol or drug problem became addicted before the age of 18. That means pediatrics. Let's start looking for early phases of the disease and start intervening then, with screening and treatment, where appropriate. This is a paradigm shift in addiction medicine. Don't wait for these people to show up in detox. Let's start diagnosing and treating early."
Richard D. Blondell, MD, Professor
Department of Family Medicine
WGRZ Interview with Dr. Richard Blondell:
November 2013
WBEN "On Target" with Penny Wolfgang interviewing Dr Richard Blondell
UB physician will direct National Center for Physician Training in Addiction Medicine
The half-hour radio broadcast is available as a podcast.
November 12, 2013
Dr. Richard Blondell (5:25)
http://www.wned.org/Features/thinkbright/tragedy_and_hope/default.asp
There is a one in four chance that your teenage son or daughter has tried prescription medications that were not prescribed to them by your family physician or dentist. In the last ten years, addiction to painkiller medications and prescriptions has increased 400% and taken hold in our communities. Every 19 minutes in our country, we lose a person to opiate addiction, which is no different than taking heroin.


Tragedy and Hope: A Call to ActionTuesday, Nov. 12 at 9 p.m. on WNED-TV
Broadcast live from the WNED|WBFO studio, "Tragedy and Hope: A Call to Action" features the WNED-TV produced documentary "Tragedy and Hope – Stories of Painkiller Addiction."